Kominka accommodation
A Kominka for rent

Kanagi Genkimura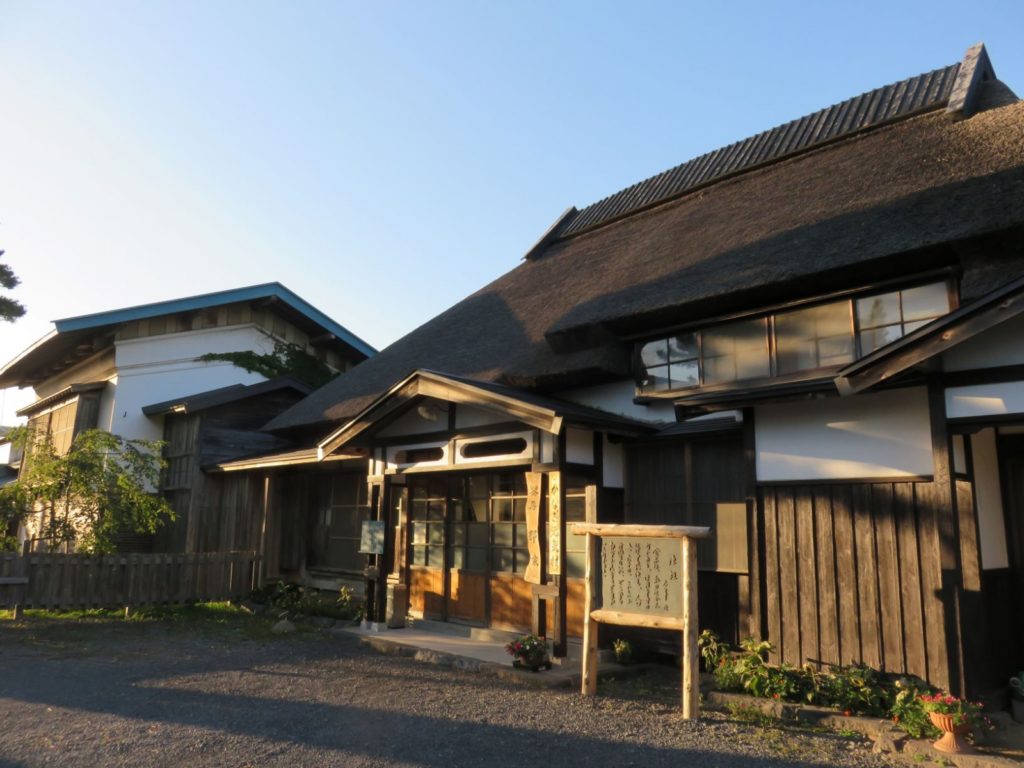 Private accommodation at Kominka related to Osamu Dazai
The Sobajima family, who owned this Kominka, served the Tsugaru han ancestor Tamenobu, earned a martial art in the Battle of Sekigahara, entrusted the school as a scholar of the Tsugaru han until the end of the Edo Period, and devoted himself to the Tsugaru han for generations.
The Sobajima family became relatives to the Tsushima family because Fumi, a cousin of Osamu Dazai (real name is Tsushima Shuji) got married.
As an educator, Mr Masamori Sobajima was a teacher of Osamu Dazai (real name, Shuji Tsushima) and a good understanding person, so Osumu Dazai also went to this Kominka and a liquor table was set up for the purpose of deepening "friendship" and trust".
Usage overview
Over 150 years ago, and the house with a thatched roof related to Osamu Dazai, called old house, Sobajima. You can stay over night in this house and experience the country life, such as dining over an open fire, swinging in the garden, and harvesting the fields (from July to October).
Equiped with shower, large bath, and a bidet toilet. You can stay comfortably.
Basically, 2 meals and a house are rented.
Supper is a countryside dish that uses a lot of local ingredients from Goshogawara and Tsugaru.
In the garden, you can also have a BBQ in the summer (prior authorizaiton required)
We offer woodworking experiences, learn to make local dishes of the Tsugaru region, kenoshiru, and Unpei (countryside sweets),
and making original pizzas baked in a pizza oven. Three day advanced notice is required for all activities.
Equipment outline
| | |
| --- | --- |
| Room type | Private house 1 group |
| Maximum capacity | 10 people |
| Size | Main building 250 square meters |
| Number of bedrooms | 2 rooms (10 tatami each – about 18 square meters) |
| Number of futons | Contract rental, normal bedding set |
| Number of beds | 0 |
| Number of bathrooms (shower and bathtub) | Room |
| Number of toilets | Total of 3 people, 1 unisex, 1 male, 1 female |
Facility usage information
| | |
| --- | --- |
| Check in | 16:00 ~ 18:00 |
| Check out | 10:00 |
| Minimum night stay | 1 night |
| Maximum length of stay | 7 nights |
Terms and restrictions
No smoking inside the house.
Smoking is allowed outdoors.
We will prepare various types of alcohol upon request, so please refrain from bringing your own alcohol.
You are free to bring soft drinks.
Accomadations
Bathtub
Desk (table)
Iron
Refrigerator
Washing machine
Microwave oven
Hair dryer
Free Wi-Fi
Zabuton (Japanese cushion)
Toiletries
Towel (face towel and bath towel)
Shampoo and conditioner
Body soap
Clothes hanger
Toothbrush
Razor
Other
Free parking available. Up to 4 or 5 passenger vehicles can be parked.
The staff will be on night duty for safety management.
Lodging charge
| | |
| --- | --- |
| Standard price | ¥11,000 ~(3 or more~ price per person 1 night with 2 meals, 10% tax included) |
| Room cleaning fee | Free |
| 1 week discount rate | None |
| 2 weeks discount rate | None |
| 1 month discount rate | None |
※The above prices are basic rates and are subject to change depending on the accommodation schedule and season